VRC Team
Post published at January 13, 2011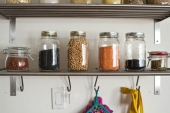 Spice up your life – and your diet – with a judicious sprinkling of handy cupboard basics such as those listed below. You may have a few of these ingredients already, so there's no need to rush out and buy them all at once. Have a good rummage at the back of the cupboard and fridge before heading for the shops. If your kitchen's anything like mine, you'll be amazed at what you find there… Those ingredients marked with an asterisk * are the things you're likely to use a lot of. The rest can be bought as and when you need them.
Aminos – Braggs or Marigold brand – like soya sauce but less salty
Arrowroot Baking powder
Bicarbonate of soda
*Bouillon powder (Marigold brand – vegan)
*Breakfast cereals (ready-made) – sugar-free wheat biscuits (eg Biobix); sugar-free crunchy granola; (NB The Co-op's own brand, and Tesco Value and Organic are all vegan)
Bulgur wheat Cocoa powder – preferably good quality such as Green & Blacks – not drinking chocolate
Cornflour Couscous *Cream (non-dairy, such as Alpro Soya Dream)
Custard powder and/or ready-made dairy-free custard in cartons
Garlic salt/powder – plus fresh garlic (kept in dark place)
Flour: Wholemeal plain and self-raising White plain and self-raising Gram (chick pea) flour Brown rice flour Spelt (good for cakes etc instead of wheat flour if you're intolerant or allergic)
*Fruit – including frozen berries for freezer
*Margarine, eg vegan Pure or Suma
*Milks – non-dairy: Nut – eg almond Oat Rice Soya milk (different varieties, eg organic, vanilla…)
Millet *Miso – an Oriental paste used for soups and stocks; some varieties are light, some darker. You can buy it at health or Oriental stores or online eg www.clearspring.co.uk or www.goodnessdirect.co.uk
Mushroooms – dried, such as porcini and shiitake
*Nuts – buy in small quantities and keep in screw top jars in the fridge or a dark cupboard
*Nut butters: eg peanut; almond; Brazil
*Nutritional yeast flakes, such as Marigold Engevita brand (NOT brewer's yeast)
*Oats – whole (jumbo) or porridge
*Oil – rapeseed oil, cold pressed; extra virgin olive oil
Onion salt Parmesan-style 'cheese', eg Florentino Vegan Parmesan
*Pasta – fusilli (spirals); penne (quills); spaghetti; egg-free noodles; lasagne sheets. Use wholegrain pasta if you can
*Pulses, dried: all varieties of beans and lentils (eg chickpeas, red lentils…)
Quinoa (a wholegrain)
*Rice – long grain brown (also red; wild)
*Salt, rock or sea – coarse or fine – cheaper to buy looseor in big bags if possible
Sauces: tomato and brown; vegetarian Worcester sauce; Tabasco or Hot Pepper Cooking sauces – vegan 'fast' sauces for Italian, Thai, Chinese and Indian (eg Meridian, Loyd Grossman)
*Soya sauce (buy brands such as Kikkoman; Sanchi; Clearspring; Essential; Infinity; Suma)
Sugar – raw cane if possible
*Syrup – date and/or maple Tinned:
*Baked Beans
*Pulses eg kidney, haricot, flageolet, pinto beans, chick peas, lentils – brown, green, Puy
*Tomatoes – chopped or whole
*Tofu – silken long life (eg Morinu brand – available in soft or firm varieties). Fresh tofu doesn't keep so long and should be stored in the fridge
*Tomato puree *Vinegar – cider; balsamic; red wine
*Yeast extract (Marmite or other brands such as supermarket own, Natex, Essential)
Herbs and Spices
These are at heart of all good food, but especially veggie food! Buy these as you need them – you'll soon discover which are your favourites. Buy loose if possible, in small quantities – or share a pack with a friend! Store in a dark place and/or in dark jars (clean Marmite jars are particularly good). It keeps them fresher.
Herbs: Marjoram *Mint *Oregano *Rosemary *Sage *Tarragon *Thyme
Spices: Allspice *Black peppercorns if you have a pepper grinder (otherwise ground black pepper) *Chilli – powder (Cayenne also) or flakes Cinnamon – powder or sticks Cloves – powder or whole Coriander – powder or seeds *Cumin – powder or seeds Fennel Garam masala Ginger – powder (but use fresh ginger root for stir-fries, sauces etc) Mustard seeds Nutmeg – powder or whole (crack the outer shell and grate the inner nut) *Paprika – plain and smoked varieties Turmeric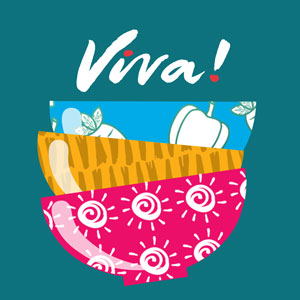 The author
This post was written by VRC Team
Vegan Recipe Club is part of the UK's leading vegan charity, Viva!. We have hundreds of delicious vegan recipes; from easy weeknight dinners to showstopper desserts, and everything in-between! Keep your eyes peeled for new recipes each month developed by our expert team of foodies and from guest chefs too.